After about 40 years of the Cold War between the United States and the Soviet Union, the war was finally over when the Soviet Union collapsed in 1991. This collapse of the Soviet Union did not happen overnight. Since the beginning of the 1980's, people of the Soviet Union suffered because of the government's corruption and bad decisions.
Mikhail Gorbachev, a man with a plan
In 1985, Mikhail Gorbachev became the leader of the Soviet Union. Gorbachev had a plan to restructure and save the Soviet Union. This plan consisted of two main parts, Perestroika and Glasnost, which are Russian words for restructuring and openness.
The first half of this plan, Perestroika, was to change the economic model of the Soviet Union. It went from the pure communist form to a new model. The new model allowed both communism and capitalism to be part of the Soviet regime. Perestroika allowed people to own businesses and properties after tens of years of the government being the sole owner of everything. People were not used to the freedom and, as a result, businesses and the economy struggled.
The second part of the plan, Glasnost, meant to allow more freedom of speech for the people of the Soviet Union. After decades of having their opinions suppressed, the Soviet people were finally allowed to speak their mind freely. In addition, they were also able to protest and have the media cover their protests. Both media and religious freedom were part of this new era.
Perestroika and Glasnost backfire
Freedom of speech led to people demanding their whole freedom after being suppressed for over 30 years. They wanted freedom from control of the government that ruined their lives and countries for decades.
As a result of this newfound freedom, states under Soviet Union control rebelled and demanded their independence. The Baltic Region was the first to rebel when its three main states, Latvia, Estonia, and Lithuania, wanted to become independent countries.
After the Baltic Regions, other states of the Soviet Union started demanding independence. The pressure from Moldova, Georgia, Ukraine, and Armenia led to a violent response from supporters of the communist government control.
The communists overthrow Gorbachev
In an attempt to take over the government, communists kidnapped the Soviet leader, Gorbachev, in August 1991. They announced him unfit to rule. When the people started to protest the takeover, the government deployed the Soviet Army to try and stop the people.
When the Soviet Army refused to kill their own people, the takeover had no strength to support it and it failed.
One suppressed country, 15 free nations
In December 1991, the official collapse of the Soviet Union happened when the Soviet Union was dissolved and replaced with 15 free independent countries. Gorbachev resigned from his position and the country of Russia replaced the Soviet Union in its possession of the nuclear missiles and its seat in the UN.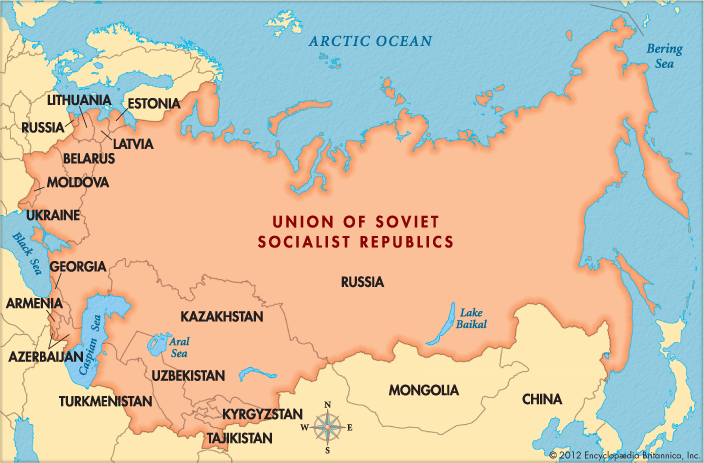 ---
Back to Cold War topics
---