From serving as the Commanding General of the U.S. forces in Europe during World War II to becoming the 34th President of the United States of America, Dwight Eisenhower is the military leader who took his country out of back to back wars into peace and prosperity.
Early childhood and youth
Shortly after Dwight was born in Texas, his family moved to Kansas where he and his five brothers grew up. The six brothers liked the named Ike so much that they started calling themselves and each other by it. Their nicknames were: Big Ike, Little Ike, and Ugly Ike. Dwight Eisenhower got very attached to the nickname so much so that his campaign slogan was "We like Ike."
After finishing high school, Dwight decided to work at a local creamery where his father worked. His parents, however, wanted him to go through with his education and go to college. Since he was interested in the military from a young age, Dwight chose to go to the Military Academy at West Point.
A successful military leader
Right after graduating from the military academy, Dwight joined the U.S. army service. He was a brilliant leader and got promoted to higher ranks very quickly. When World War II started, Eisenhower became a 5-star General and led the U.S. forces in European front battles after President Roosevelt assigned him as the supreme commander of the Allied forces.
In this position, Eisenhower planned the successful Normandy invasion which was called "D-Day". The Normandy Invasion under Eisenhower's leadership succeeded at getting the German forces out of French lands, which was a major victory in World War II. In 1945 when World War II ended, General Eisenhower formally accepted the surrender of the German troops.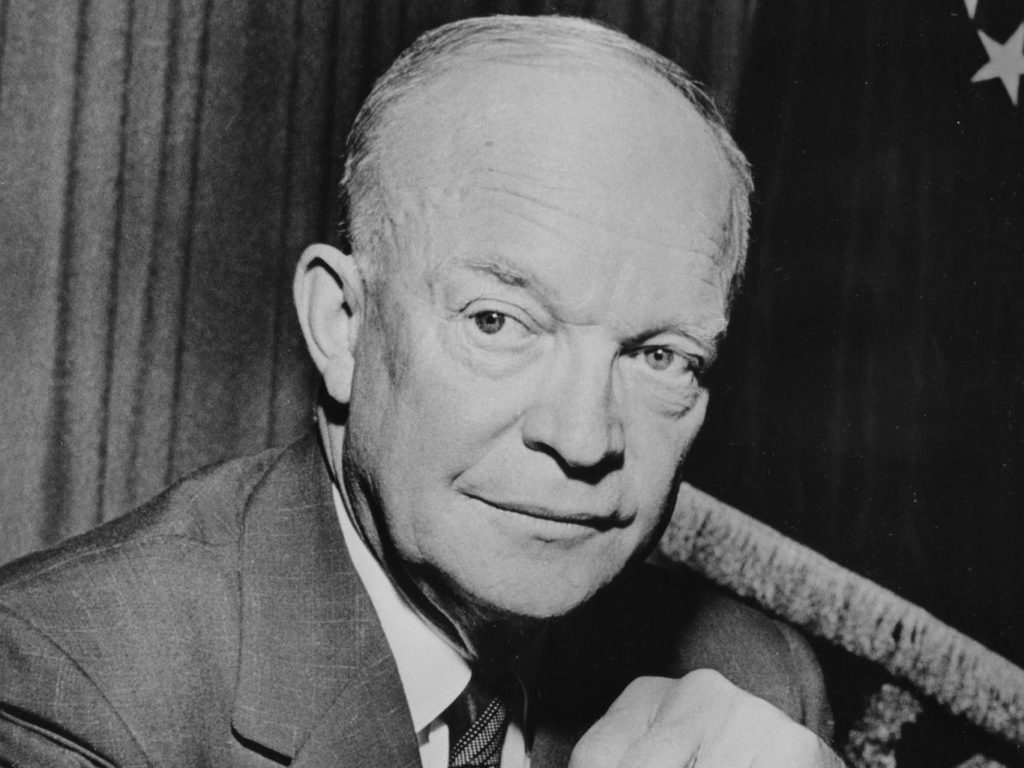 Eisenhower's life after World War II
Three years after the end of World War II, General Eisenhower retired from the army and took a position as the head of Colombia University. He was then called to serve as the leader of the NATO forces that were located in Europe. During this entire time, many people had been asking him to run for the President of the United States, but he always refused. He finally decided to run in 1952.
The 34th President of the United States
In 1952, the United States really did like Ike! Eisenhower won the election with ease and served for two terms as the President of the United States as a Republican. Richard Nixon served as Eisenhower's Vice President.
Due to his military background, Eisenhower was a very wise and calculated leader to the nation. He studied every situation very carefully before starting a conflict that could potentially be avoided. He believed that the military was a tool for foreign policy but was to be used as a last resort. Eisenhower believed it was the job of the President to do everything he could to keep his country out of war. He got the U.S. out of the war in Korea and he prevented the country from going to war in the Middle East. He understood the American people's need for stability and security after years of war and conflict. He gave them just that.
Eisenhower was committed to building infrastructure, such as the Interstate Highway System that Americans all over the country use to this day. He established an office for civil rights in the Department of Justice and proposed the Civil Rights Acts of 1957 and 1960.
Death of President Eisenhower
In 1969, President Dwight Eisenhower had heart surgery and unfortunately did not survive. He passed after serving his country as a military leader and a president. To this day, decades after his passing, we still like Ike!
---
Back to Cold War topics
---