After 12 years of serving as The President of the United States of America, President Roosevelt passed away due to a sudden stroke. Harry Truman, who was elected Vice President only three months before the death of President Roosevelt, was called to the White House in April 1945 where the First Lady, Eleanor Roosevelt received him. The First Lady told Truman that the President had died. Taking the devastating news calmly Truman asked the First Lady if there was anything he could do for her, when she said, "Is there anything we can do for you?"
Before Truman became the President
Harry Truman was inaugurated as the 33rd President at a very critical time for the United States. When President Roosevelt died, everyone in the United States and in the world was worried because Truman was not known for anything in the world of politics.
In World War I, Truman was an artillery captain in France. After he returned home, he tried to open a business selling clothes. Fortunately, the project failed as he was destined to play a much bigger role in the history of America.
Harry Truman became a senator in 1935 where he was very successful for a decade. In 1944, President Roosevelt asked him to run for the position of Vice President.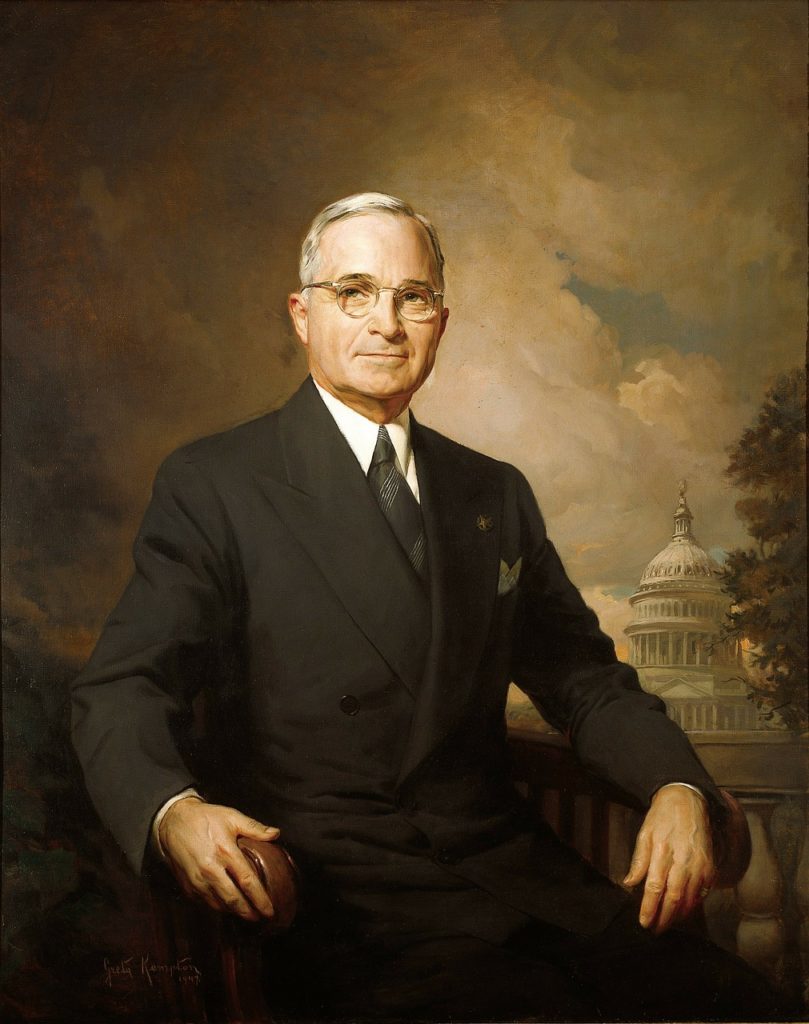 Harry Truman and the atomic bomb
When Truman became President, signs that World War II was about to end in favor of the Allied Powers was becoming more and more apparent. This was the case for the German front as Germany was clearly defeated and surrendered only a few months after the 33rd President was inaugurated. On the Japanese front, however, things were not going to end that easily.
Although Japan was officially defeated in World War II, the Japanese were not willing to accept that outcome and did not want to surrender as Germany did. For the United States to invade Japan, thousands and thousands of U.S. soldiers' lives would have been lost. To avoid the terrible loss, President Truman chose to use the newest weapon the United States had developed, the atomic bomb.
On August 6, 1945, the U.S. Air Force dropped the very first atomic bomb on the Japanese city of Hiroshima. The second atomic bombing of another Japanese city, Nagasaki, happened 3 days later on August 9, 1945. The first bomb exploded 2,000 feet above the city and immediately killed 80,000 people, demolished 60,000 buildings, and destroyed 90 percent of the city.
After this unbelievable devastation that no weapon had ever caused, Japan had no choice but to surrender right after the two atomic bombs had wiped out two Japanese cities in a matter of seconds.
Handling the aftermath
Once World War II ended, Truman had to deal with the issue of rebuilding Europe, which had been ruined by the war. He used the Marshall Plan to help people of Europe rebuild their countries.
Soon after World War II, the Cold War started as the Soviet Union started to spread communism throughout the countries it took control over during World War II. President Truman, along with Canada and Western European Countries, formed NATO (North Atlantic Treaty Organization) to protect the western world from any communist attack. He also sent troops to fight against communists in Korea and Vietnam. After his service as the President of the United States ended, Harry S. Truman lived a long life until he died at the age of 88 from pneumonia.
---
Back to Cold War topics
---