Richard Nixon became the 37th President of the United States after running and losing against President Kennedy in 1960. Although Richard Nixon achieved the highest position in the United States, he is most known for being the only President to ever resign from his position.
Childhood and early years
Richard Nixon was born in January of 1913 in Southern California. His family owned a small grocery shop in Whittier, California and was very poor. According to Nixon, the only reason the family was able to make a living was that they had 5 boys and all of them worked in the family's store. Richard and his brothers had a very hard childhood; because of how poor the family was, they could not treat two of Richard's brothers when they got sick. As a result, the two boys died.
Focusing on making a better future for himself, Richard decided to go to college. He worked every night at the family's grocery store to attend Whittier College. He was a very smart student and excelled at debate and enjoyed both drama and sports.
After graduating from Whittier College, Nixon attended Law School at Duke University on a full scholarship. He graduated from law school and moved back to Southern California. He started practicing law until World War II started. When the war broke out, Richard joined the U.S. Navy to serve his country. When the war ended and he left the Navy in 1946, he had reached the rank of Lieutenant Commander.
Nixon's political life begins
Right after leaving the Navy, Nixon wanted to work in politics. He ran for the U.S. House of Representatives in 1946 and won his seat. Four years after serving as the state representative, in 1950, Richard Nixon ran for a seat in the Senate and won as well. He was most famous for speaking very strongly against communism, which earned him huge popularity among the people.
Two years after being a senator, Dwight Eisenhower asked Nixon to run with him as his Vice President. Eisenhower and Nixon won and served together as President and Vice President for two terms until 1960. During this time, Nixon did far more than any other Vice President before him. He attended National Security meetings and ran those meetings when President Eisenhower was not able to be there. Nixon also ran the country on his own for six weeks when President Eisenhower had a heart attack and could not work. He traveled all over the world tending to the United States foreign affairs and had a great role in the Civil Rights Act of 1957.
President Richard Nixon
Nixon ran for the presidency in 1960 against Kennedy, but lost to his young democrat opponent. After President Kennedy's untimely death and President Johnson's term came to an end, Nixon Ran for the presidency in 1968. He knew that the nation's biggest problem and concern at the time was the very thing that brought President Johnson down, the Vietnam War. Nixon promised the American People that he had a plan to end this war, so he won the election!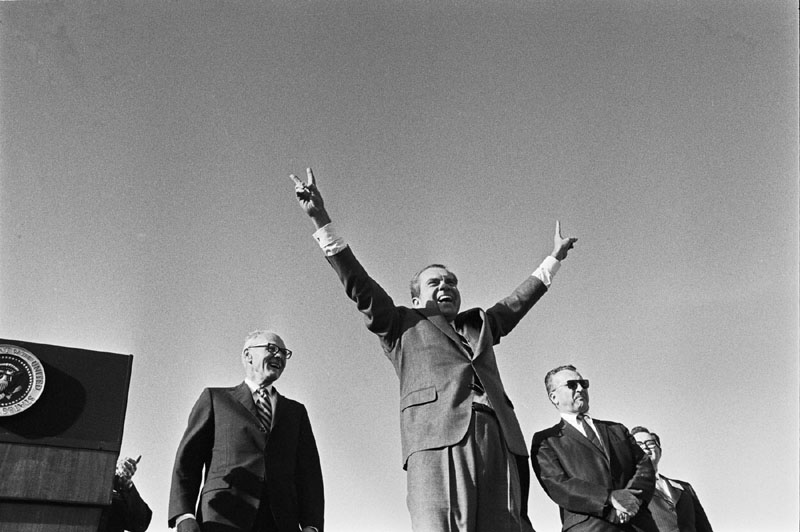 President Nixon kept his promise and ended the Vietnam War by pulling out the American troops. He accomplished many other things as well, like opening relations with China and even visiting the Soviet Union. He also signed two major treaties with the leader of the communist world, SALT I and the Anti-Ballistic Missile Treaty, which both prevented the world from going to World War III.
The Watergate scandal
Despite his many accomplishments as the President of the United States, Nixon is most famous for the Watergate scandal. In 1972, he was accused of spying on his opponent from the Democratic Party after a break-in happened at the Democratic offices at the Watergate buildings. Nixon denied any involvement and claimed that his staff did this without him knowing. However, some tapes proved that he knew as he was recorded on those tapes while planning the Watergate break-in. The scandal made the Senate collect the votes to get Nixon out of office, but to avoid any more embarrassment, Nixon resigned. In 1994, Richard Nixon died after having a stroke. Five U.S. presidents attended his funeral, including his Vice President, Gerald Ford, who took office after his resignation.
---
Back to Cold War topics
---