Ten years before World War II broke out, Otto and Edith Frank had a beautiful baby girl that they named Anne. Anne had an older sister named Margot, who was shy and quiet, like her mother. Meanwhile, Anne was a more energetic child who took after her father and loved to listen to and tell stories. From a young age, Anne Frank wanted to become a writer when she grew up.
The Franks run away from Germany
Originally, the Franks were a German family and both their little girls were born there. When Hitler rose to power in 1933 and his hatred towards the Jewish people started to turn into acts of violence and vandalism against them by the Nazi Party, Otto Frank knew that his family had no place in Germany anymore. So, in 1934, four-year-old Anne packed her things, along with her family, and moved to the Netherlands.
Anne's childhood in the Netherlands
In the Netherlands, Anne lived in the city of Amsterdam with her parents and her older sister happily for a few years. She made a lot of friends and started going to school. Finally, the Frank family was safe again.
In 1939, Hitler invaded Poland and World War II started.  After Hitler had taken over Austria, Czechoslovakia, and Poland, Otto Frank started thinking about whether he should take his family and run away from the Netherlands or not. He decided to stay longer and see how the war would turn out. Ultimately, it was the wrong decision.
The Nazis in the Netherlands
In 1940, Germany invaded the Netherlands and it was too late for Anne Frank and her family to escape. Jewish people had to turn over their businesses, as they were not allowed to own anything. They were not allowed to go to the movies or even sit in the parks! As a result, Otto gave his business to his friends, who weren't Jewish, and aside from the crazy rules of the Nazis' the Frank family tried to go on with their lives. On Anne's 13th birthday, her parents gave her a journal in which she started writing her story and experiences living under these circumstances. This journal and its contents would someday become one of the most famous journals in history!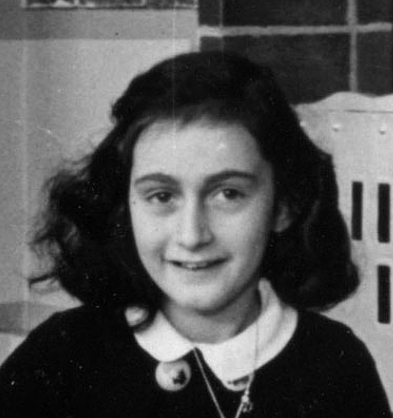 The Franks hiding begins
From this point on, living in Amsterdam became harder. Nazis established that all Jews must wear a yellow start on their clothes to be recognized on the streets. More and more Jews were gathered to be taken to concentration camps until the day came when Margot was about to become one of the victims of the camp as part of the Holocaust.
Luckily, Otto Frank had been planning to hide his family for a while. When the Nazis wanted to take Margot, the family waited until nightfall, wore all their clothes in layers in order not to carry suitcases, and left their home. Then, Otto had arranged for them to hide in a small hideout he had been preparing next to his business with the help of his friends.
The Frank family lived in terror in this small home going about their lives without making a sound. Over time, they were joined by other Jews who needed to hide as well. The Van Pels family, a teenage boy named Peter, and Mr. Pfeffer all moved in to stay in the Frank's hideout. At one point, there were 8 people living in a very small space. To pass her time, Anne started to put more of her time into her diary where she wrote letters to her friend "Kitty."
False Hope
After two years of hiding, the hiding group starting hearing news about the Germans being defeated in the war. They started hoping that they would soon be free and get back out to the world. Sadly, that did not happen.
In August 1944, German officers found the Frank's hiding place. Anne, her mother, and her sister were taken to a concentration camp, while her father was taken to another. After less than one year, Anne and her sister both died of Typhus in March 1945, only one month before the Allied Powers rescued the prisoners in their camp.
Anne Frank's Journal
Otto Frank, Anne's father, was the only member of her family to survive the concentration camps. Upon returning to Amsterdam, Frank discovered his daughter's diary. Then in 1947, her diary was published under the title The Secret Annex. It was later renamed Anne Frank: The Diary of a Young Girl. This book became very popular all over the world.
---
Back to World War II topics
---