Hirohito ruled Japan for the longest amount of time that any single person had ever ruled in Japan's history. He was the Emperor for 63 years! Of course, being the Emperor for over six decades meant that Japan would witness many ups and downs during his reign. Japan had witnessed the biggest defeat and tragedy of its history under Hirohito's rule.
Childhood and early youth
In April of 1901, Hirohito was born in the royal palace in Tokyo. His father was the crown prince at the time, while his grandfather was the Emperor of Japan. During his childhood, the royal family members called him Prince Michi.
Japanese traditions dictated that princes and royal children be raised by other royal families. As a result, shortly after Hirohito was born, he was sent to live with another royal family that raised him. He attended a special school for royalty and nobles named Gakushuin at the age of 7.
Hirohito became Japan's crown prince when he was 11 after his grandfather died. His father's health was always weak. It was only a matter of a few years before Hirohito would become the Emperor of Japan. However, before that happened, Hirohito decided to take a tour in Europe and visited Italy, Britain, and France. He was the first Japanese crown prince to do this.
The young prince was informed that his father's health would not allow him to carry on his duties as the Emperor. As a result, had to become the Regent and rule in place of his father. In 1926, the Emperor died, and Hirohito officially became the Emperor of Japan.
The Showa Dynasty
Once Hirohito became the Emperor of Japan, no one was allowed to call him "Hirohito". Everyone would call him either "His Majesty the Emperor" or "His Majesty" for short. "Showa" was the name of Hirohito's dynasty, which means peace and enlightenment.
Hirohito's upbringing taught him that the Emperor must stay out of politics and leave it to his advisors, even though, as the Emperor, he had absolute power over everything in his country. All his advisors were military men who wanted to expand Japan's control and take over neighboring countries that were richer in natural resources.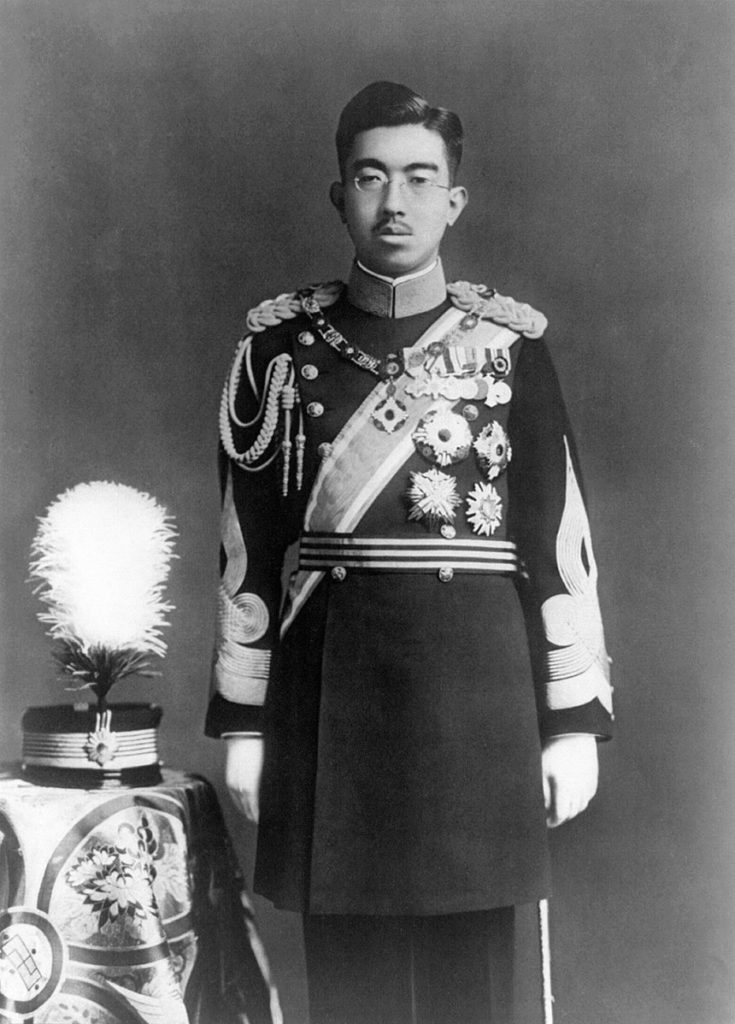 Japan Joins the Axis Powers
While China was torn by civil war, Japan decided to invade it in 1937. It occupied North China and took over its capital.
Two years later, in 1939, World War II started and Japan joined Italy and Germany as part of the Axis Powers in 1940. When the Japanese leaders saw the U.S. Navy in Pearl Harbor as a threat, they decided to attack it hoping that this unexpected attack would destroy the U.S. Navy and eliminate the threat. However, this had the opposite effect. It resulted in the United States declaring war on Japan and joining the Allied Powers in World War II.
Japan managed to take control over most of the South Pacific territories all the way to the Philippines. Things seemed to go in favor of Japan under the leadership of Hirohito and his advisors for a while. Then, in 1942, the war started to shift and Japan started to lose the war. As 1945 started, all Japanese forces were pushed back to Japan.
Japan's demise
Germany and Italy surrendered to the Allied Powers in 1945. It was very obvious that Japan, just like its partners, had also lost the war. However, Hirohito and his advisors refused to surrender. This meant that the Allied Powers would have to send about one million soldiers to their death in order to invade Japan and force them to surrender.
Choosing the lesser of the two evils, the United States decided to spare the lives of hundreds of thousands of soldiers and drop an atomic bomb on Hiroshima. The city was immediately destroyed and thousands of people died, but that wasn't enough for Hirohito to announce Japan's surrender. It took another atomic bomb dropped on another city for him to decide to save the Japanese nation. The palace released a pre-recorded message over the radio from the Emperor stating that Japan had surrendered. Through this recording, the Japanese people heard their leader's voice for the first time ever.
It's important to point out that Hirohito was reluctant to the whole idea of war, but he feared that if he refused, his "advisors" would assassinate him. Once Japan started to lose the war and after the first atomic bomb was dropped on Hiroshima, he had all the authority and power to surrender to save the lives of the Japanese people without fearing for his life.
After World War II ended
Most of the Japanese leaders were tried and executed for their war crimes, but Hirohito wasn't tried at all. The Allied Powers decided to remove all his power over the country and leave him as a figure for Japan to remain peaceful and be able to recover. Hirohito died in 1989 from cancer.
---
Back to World War II topics
---