Jersey Girl Gone South Gets a New Look
As you may have noticed, my website looks a little different! After a bit of a blog hiatus and a newfound adventure in curriculum expansion, I felt as though the website needed a refresher to fit this new phase of life I am in! Check out how I migrated my page from Blogger to WordPress and got a new look… all in one!
Bellano Web Studio
After researching many other educator website/blog combinations, I stumbled across Mr. Elementary Math's webpage. I really liked the crisp layout and cohesive design elements. After taking a look around his webpage, I saw that he had used Bellano Web Studio to help build his site. I reached out to him to see how the process worked and if it was one he would recommend. After giving some really helpful website tips and tricks, he said, "Thauna from Bellano Web Studio is great to work with. She did a great job listening to my vision for my website." After reviewing her portfolio and loving a lot of her work, I reached out to Thauna from Bellano Web Studio and got the process started!
I was able to get on her schedule for the following month, which worked out perfectly!
The Process
Thauna had me fill out a web design form that focused on mainly design elements (colors, layout, etc.) and what the website would be used for. I did my best to be as detailed as possible, as I had a pretty clear vision for what I hoped the final result would look like.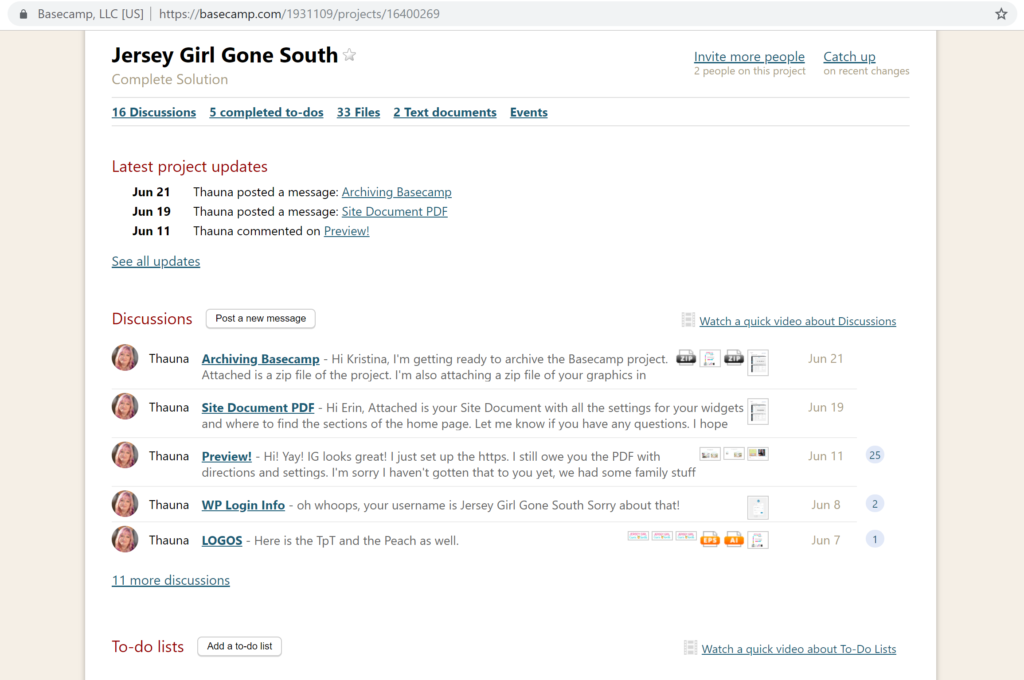 Thauna uses Basecamp as a platform to communicate documents, conversations, and questions back and forth. I had never used it before, but I was so impressed! It was extremely efficient and allowed all our communications to be kept in a neat and orderly format. It was nice to have everything we were discussing in one place to refer back to throughout the design and edit process, such as files, pictures, layout ideas, etc.
Logo Header
The first step was deciding on the colors and fonts for the header logo that would be predominately displayed across all of the pages within my website. We went back and forth with a few peach clip art options (who knew picking a peach could be so tricky!). I decided on the final combination and was relieved to know it was Thauna's favorite, too!
The Waiting Game
After I had done all of the upfront work of submitting my web design form, layout requests and logo design, it was now Thauna's turn to work her magic on the webpage. I anxiously awaited to see what she would come up with! Two weeks later, she had a preview ready for me… and it exceeded all of my expectations! I loved it!
We went back and forth making small edits, such as hyperlinks to correct pages and sizing, but all in all, she was spot on with what I had envisioned the webpage to look like.
Blogger to WordPress
One new aspect of my webpage is that I am using WordPress. When I originally started my blog/webpage a few years ago, I was using Blogger. I never had any issues with it, but felt limited in my design abilities based off of what I had previously designed for my header, toolbar, etc.
Thauna even helped me migrate all of my previous blog posts from Blogger to WordPress, which was a huge timesaver! And it was awesome to start fresh with a new look, but not lose any of my previous blogs.
Check Out Bellano Web Studio
So… if you are looking to bring new life to an existing webpage or blog or want some creative help with a new webpage you have been thinking about, I cannot recommend Thauna at Bellano Web Studio enough!
I hope you look around my webpage and love all of her hard work just as much as I do!
Thanks again Thauna! 😊
---